Friday, August 26, 2005
The chasm from Engelbart to Jobs and Gates
While reading John Markoff's excellent history of Silicon Valley's contributions to computing and the Internet,
What the Dormouse Said
, I was struck by the yawning chasm that separates
Doug Engelbart's original vision of augmented collaboration
from the notably
personal
computing visions elaborated by Bill Gates and Steve Jobs.
Early on, Gates produced
MS-DOS
, a fragile little operating system that hardly worked unless you bought more software from other companies. Remember
memory management
? NetBIOS? Novell's Netware?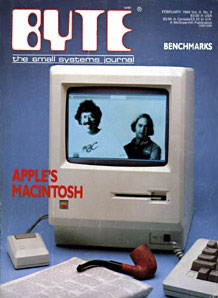 Jobs then took the highly networked visions created at Xerox PARC and somehow turned out a brilliant, but completely
isolated
little anthropomorphic machine. For some time, he didn't want it to have a hard drive, a network or a larger/color monitor. Sheesh.
Gates then copied that. A mere decade later. (
Windows 3.1
doesn't really count; Windows 95 achieved parity, but only because the Mac OS had somehow become frozen in time.)
We're
still
stuck with the (my) desktop metaphor, and on top of that, with mere
personal
productivity applications. We ship one another bulky Word and PowerPoint files, praying the versions don't get mixed up in transit. Those documents are too large for collaboration, and their proprietary formats don't allow the linking and remixing needed for creativity.
Other people? Other places? They're over
there
, on the H: drive or in the "collaboration" application.
Why
have these magical platforms neglected our social nature for so long? Why are these features still being glued on as afterthoughts, like antlers on a
jackalope
? Can't we loosen up, move things around a bit so that collaboration, annotation, search and linking are always at hand, for every object, as native functions of every window?
Doug had a fantastic vision, one he may have clung to too tightly as implementation details mounted (this Markoff's book points out well). But the social nature of work was implicit in the vision. That little essential bit got ignored.
Now, happily, social software is in. Doing things together is cool. Emergent crowd behavior gets oooohs and aaaaahs and some decent research funding. About time.
By the way, a similar cognitive gap opened when Marc Andreessen and his buddies at NCSA added images and other media capabilities to their
Mosaic browser
, but didn't implement the writeable side that Tim Berners-Lee had intended the Web to have. So the Web became something browsable, more like TV and magazines, rather than writable.
Wikis in particular are helping make the Web writable again, which makes me smile.
It really is time we rethink the computers we're using. They spend way too much time churning to do things we don't need them to do -- don't get me started on
the many lovely DRM features being built into the next generation platforms
-- and not enough just doing what we really need.
Wednesday, August 24, 2005
More Monderman stories
Rethinking traffic lights and structures
Tuesday, August 23, 2005
Rumors into reality: Google Talk rocks!
Wednesday, August 10, 2005
Outside-In
Tuesday, August 09, 2005
Back to public relationships, via Joho and Tim Bray
Tuesday, August 02, 2005
Andrew, Luddite slayer -- sez Friedman
Subscribe to Posts [Atom]